Credentials
---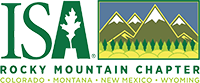 ISA Rocky Mountain Chapter, Member
ISA is an educational and research society with over 15,000 members worldwide. Since 1924, ISA has been providing an excellent avenue for arborists to keep in touch with the latest professional growth that comes with ISA membership.
---
ISA Certified Arborists
An arborist by definition is an individual who is trained in the art and science of planting, caring for, and maintaining individual trees. ISA arborist certification is a nongovernmental, voluntary process by which individuals can document their base of knowledge. Certified Arborists are individuals who have achieved a level of knowledge in the art and science of tree care through experience and by passing a comprehensive examination developed by some of the nation's leading experts on tree care. Learn more about hiring a Certified Arborist.
---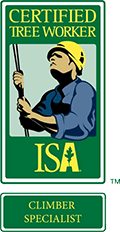 ISA Certified Tree Worker Climber Specialist, On Staff
To be a ISA Certified Tree Worker Climber Specialist, candidates must have the skill and endurance to climb trees, demonstrate high regard for safety, and be able to get the job done off the ground. This credential is different from the other certifications because you are tested in both a classroom setting and a field setting. Candidates must have training in aerial rescue, CPR, and First Aid to obtain this certification.
---
ISA Tree Risk Assessment Qualified (TRAQ)
Owner, Luke LeFebvre, is qualified to perform tree risk assessments. The ISA Tree Risk Assessment Qualification (TRAQ) program provides an opportunity for professionals in the arboriculture industry to expand their knowledge through education and training in the fundamentals of tree risk assessment. This qualification promotes the safety of people and property by providing a standardized and systematic process for assessing tree risk. The results of a tree risk assessment can provide tree owners and risk managers with the information to make informed decisions to enhance tree benefits, health, and longevity.
---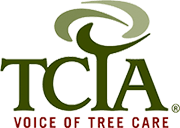 Tree Care Industry Association (TCIA), Member
Established in 1938, the Tree Care Industry Association is a trade association of more than 2,000 commercial tree care firms and affiliated companies. TCIA develops safety and education programs, standards of tree care practice, and management information for arboriculture firms around the world.
---
Better Business Bureau, Accredited Business
Alpine Arborists Professional Tree Care is a BBB Accredited Business with an A rating. An accredited business must build trust by establishing and maintaining a positive track record in the marketplace, honestly represent products and services, be transparent, honor promises, be responsive, and embody integrity.
---
Our team attends seminars and classes regularly in order to stay on the cutting edge of the tree care industry with new techniques and tools which increase production and quality while decreasing the possibility of injury or property damage.
---
Insurance
BE SURE YOU ARE COVERED!
We carry:
Workers Compensation: Covers any injury related accident while on your property.
General Liability: Covers any property damage up to $2,000,000
Municipalities and state insurance requirements for all vehicles and equipment.
View our General Liability Insurance and Workers Compensation to learn more details about our insurance coverages.